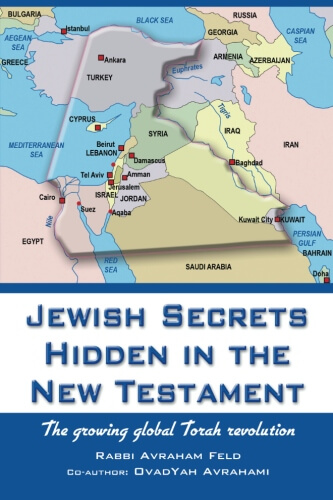 An Audio-visual Review of the book authored by Rabbi Avraham Feld & OvadYah Avrahami.
This book reveals the 'hidden Secrets of Judaism's invincibility'.  These vibrant, spiritual life-giving formulas have been uncovered from the New Testament by re-identifying remnants of the Ten Lost Tribes of Israel, who were prophetically destined to rediscover their ancient identity in the "End Times".
These eternal Torah Truths lay hidden for centuries.  It made its discoverers unfit for 'the Church' for whom the New Testament was meant.  It drove them (as it drives more and more every day) to the obstacle ridden fulfillment of  'an impossible dream': The Return to the Promised Land of the Bible – Land of the people of the God of Israel.
The front Cover depicts the divinely promised Goal of an expanded land mass; while the contents of this publication reveal the underlying foundational concepts of Torah, acting as the spiritual driving force or generator of "the Kingdom of Heaven" of the New Testament.
The authors recount the amazing current world-wide phenomenon amongst millions of people for whom the urge to "Return to the Land" has become a priority of life. This timely publication reviews the Prophetic directives, obstacles and ultimate Divine fulfillment of the establishment of a Re-united 12-Tribed Kingdom of "Greater Israel".
All this, according to Divine Intent and Biblical Prophecy as received by Jewish Sages throughout the ages.
CLICK HERE to order your copy.
CLICK HERE to order your copy.