Parashat  Shemot  – Exodus 1:1 – 6:1
Haftarah  –  Isaiah 27:6 – 28:13;  Isaiah 29:22 – 23
(Jeremiah 1:1 – 2:3)
We have recently commented repeatedly how that some of our most common words and phrases used to determine main concepts of our Faith, do NOT appear in the Scriptures at all. We will be featuring yet another one of these, sprouting from our Parashat commentaries this week.
We wish to state emphatically here, that this does NOT suggest the non-existence or any proposed falsity of these concepts. Much rather, it should be pointed out that these concepts have been validly interpreted and developed by Jewish Sages with deep insight and vision into the hidden Mysteries of the Bible but without being exposed to the actual visible Divinely ordained fulfillment as it is taking place today all around us.  We are having the benefit of evaluating the actual outcome of these ancient mysteries and deep Truths, in its building up towards the final revealing, while we have the solid foundations which had been laid by these Jewish Sages throughout the ages. This leads us to understand and even become part of an exalted placement that any sound, increased knowledge and insight provides about the real happening and outcome of Divine Intent.
Therefore, rather than disparaging Judaism and the teachings of its Divinely mandated Sages throughout the ages, the observations of this writing are presented as a reminder also of the Scriptural Promises of "End Time evolving revelatory Truths." (Daniel 12:4). In fact, these observations are being created as conclusions of what Rabbinic observations throughout the ages, right up to and including today, are teaching and concluding.  Rabbi Avraham Sutton eruditely summarises this End Time enlightenment Process as follows:
"We are living in a special time, a pregnant time…a time about which our ancestors dreamed and saw visions. It is an awesome time in which everything hangs in the balance and all of history is coming to its culmination. It is a time in which the reasons for many things will be revealed. The single most important thing that we will understand (which includes everything else) is God's plan for us. We will understand that, through supernatural and natural means, God is bringing this plan to fruition. This involves moving into the next stage of history, the Messianic Age, the return to Edenic consciousness on a higher level…" (from the Introduction to his book "Spiiritual Technology" . http://www.avrahamsutton.com/
It should therefore not be strange to consider HaShem's own statements regarding "the blindness and deafness of His Own Witness" Whom He is preparing. Be sure to read here: Ref. "The REAL Truth underlying the Jews as the Light Unto the Nations"
So, the concept that we want to add to our list today, is the intriguing concept of 'Shechinah' – the Presence of G-d which has left His People, Israel, on more than one occasion – and which since the destruction of the first Temple in Jerusalem has joined His People in exile and is believed to Return at the now imminent Time of the Final Redemption, at the concluding of the 6000 years before the dawning of the millennial Sabbath. This 'Presence', the 'visible Manifestation or Habitation of the Almighty amongst His People' (as in the Temple) is generally referred to as the 'Shechinah of HaShem'.
The word Shechinah (שכינה) appears nowhere in all of Scripture. In the Tanach, some 12 various Hebrew words are used to refer to this 'living presence' of G-d amongst His People.  `Of these 12  words which are used some 500 times in Scripture, translated as 'dwell' (live amongst or in), the closest to Shechinah is Shachen (שכן) which appears some 86 times – translated 'dwell'. Of these latter 86 words, most times it is used for 'dwell in the land, dwell in tents' – but it is also contained in the texts that refer to HaShem 'dwelling in the Tabernacle, and the Temple'. The word Tabernacle, Mishkan ( מישכן ) itself is a derivation of 'Shechinah'.
In various sections in the Scriptures (as to King David regarding the Temple to be built for HaShem) the Divine requirement is repeated that HaShem seeks a 'Temple for Him to dwell in amongst His People for Ever.'
The Main Divine Purpose underlying the Creation of mankind
This brings us to probably the Main Divine Purpose for mankind: i.e. to act as a Temple for HaShem to dwell in amongst His People. Scriptures abound and it is impossible in the extent of this writing to mention it all here. The reader will have to do his/her own research by simply tracing keywords like 'dwell, dwelling, Tabernacle, Temple'.
Probably the most spiritually inspiring usage in this context is the related word 'habitation' (machon) which describes this same Divine Intention to 'dwell in' an Everlasting Temple – but with a more intimate relationship and purpose for this indwelling. This reveals to us the Divine Desire to make His Habitation within the bodies (temples) of humans.
This also highlights the Ultimate Divine Purpose based on the Divine Promise that He will, in the Final Redemption, enter into a 'New Covenant' with those who are elected in the Final Judgment. Jeremiah 31 features this Glorious Event which will come AFTER the regathering of all the Tribes, after the Final Judgment, logically (for those who will be found worthy).
Jer. 31:30  "Here, the days are coming," says Adonai, "when I will make a New Covenant with the House of Isra'el and with the house of Y'hudah. … "I will put my Torah within them and write it on their hearts; I will be their God, and they will be My people. 33 (34) No longer will any of them teach his fellow community member or his brother, 'Know Adonai'; for all will know Me, from the least of them to the greatest;"
This is repeated and extended in:
Ezek. 37:26  "I will make a Covenant of peace with them, an everlasting covenant. I will … set my sanctuary among them forever. 27 My home will be with them; I will be their God, and they will be my people."
Ezek. 11:17  " … I will gather you from the nations and collect you from the countries where you have been scattered, and I will give the land of Israel to you …  19 and I will give them unity of heart. "I will put a new spirit among you." I will remove from their bodies the hearts of stone and give them hearts of flesh; 20 so that they will live by My regulations, obey My rulings and act by them. Then they will be My people, and I will be their God.'
Zech. 2:14 (Hebrew Tanach) Zech. 2:10 (other translations).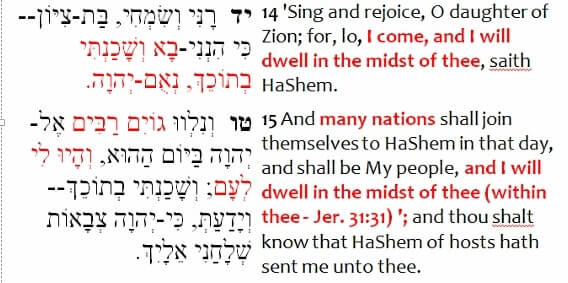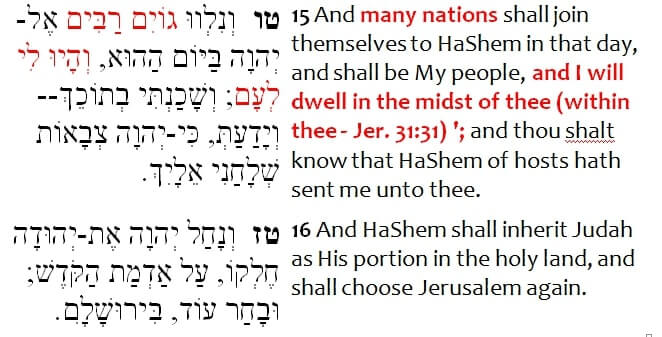 This is "The Return of His Shechinah (Presence)" which He promised to Return. This is 'Shiloh' (that which is His) Who shall take over the Mechoqeck Rule from Judah (Gen. 49:10).
KHT response to Our weekly ParashahCommentaries
Parashat  Shemot  – Exodus 1:1 – 6:1
We feature various Rabbinic commentaries:
In the first of these, "Amram – one of seven righteous men who helped bring G‑d's Presence (Shechinah) back to earth" we are confronted with the concept of the visible 'Shechinah' of HaShem being removed and then later returning to earth.
In our Parashat commentary "Faith in the Future" by Rabbi Dr Jonathan Sacks we learn about HaShem's Declaration regarding His identification to Moses as "Ehyeh asher ehyeh meaning … 'I will be what, where, or how I will be' … God is defining Himself as the Lord of history who is about to intervene in an unprecedented way, to liberate a group of slaves from the mightiest empire of the ancient world and lead them on a journey towards liberty." (as He will do in the upcoming and currently developing regathering of the Israel exiles from across the Globe to the Land of Israel for the Final Redemption and establishment of His Universal Kingdom).
In our Parashah, we have His Promise (for this Purpose of Redemption of His People) "To be what, where, or how I will be'.  Can this refer to the Return of His Presence amongst His People at the Time of the Exodus? Undoubtedly.
We then read about His 'Appearance to Moses as a raging Fire in a Bush' addressing Moses and instructing him to bring His People out of captivity and lead them to the Promised Land (Exodus 3). Please read this Scriptural record for yourself.
Turning our minds to the future – to the Time we are now approaching, which commonly is being regarded as the 'End Times' in which we are expecting the intervention of 'The Mashiach'. To Judaism this refers to the first time Coming of Mashiach ben David – while Christians expect the "2nd Coming of their Messiah of the NT." And we have the same occurrence here, that NONE of these terms, 'The Messiah'. 'Messiah ben David' or 'Messiah ben Yoseph' appear anywhere in Scripture.
This does NOT deny the existence or reality of such terms as 'Shechinah' or 'Messiah' – which is proven by the volumes of interpretations throughout centuries which informed scholars from various Faiths have been wrestling and confronting and correcting each other with. It seems that it is with the interpretation of these terms that there is a problem and misunderstanding about.
The Written Scriptures leave no doubts that the Creator G-d claims to Personally be doing all these things that mankind credit to an independent 'agent', separate from G-d, referred to by terms that do not appear in Scripture.
Can it be that 'G-d', 'Messiah' and 'Shechinah' are synonym and referring to the SAME Being?
Exodus 3
ד  וַיַּרְא יְהוָה, כִּי סָר לִרְאוֹת;

וַיִּקְרָא אֵלָיו אֱלֹהִים מִתּוֹךְ הַסְּנֶה

, וַיֹּאמֶר מֹשֶׁה מֹשֶׁה–וַיֹּאמֶר הִנֵּנִי.
4 And when HaShem saw that he turned aside to see,

God called unto him out of the midst of the bush

, and said: 'Moses, Moses.' And he said: 'Here am I.'
ה  וַיֹּאמֶר, אַל-תִּקְרַב הֲלֹם; שַׁל-נְעָלֶיךָ, מֵעַל רַגְלֶיךָ–כִּי הַמָּקוֹם אֲשֶׁר אַתָּה עוֹמֵד עָלָיו, אַדְמַת-קֹדֶשׁ הוּא.
5 And He said: 'Draw not nigh hither; put off thy shoes from off thy feet, for the place whereon thou standest is holy ground.'
ו  וַיֹּאמֶר,

אָנֹכִי אֱלֹהֵי אָבִיךָ, אֱלֹהֵי אַבְרָהָם

אֱלֹהֵי יִצְחָק, וֵאלֹהֵי יַעֲקֹב; וַיַּסְתֵּר מֹשֶׁה, פָּנָיו,

כִּי יָרֵא, מֵהַבִּיט אֶל-הָאֱלֹהִים

.
6 Moreover He said: '

I am the God of thy father, the God of Abraham

, the God of Isaac, and the God of Jacob.' And Moses hid his face; for

he was afraid to look upon God

.
Rabbi Avraham Sutton aptly sums it up in his following enlightening observation:
Tehillim (Psalms) 126 – Translation and commentary by Rabbi Avraham Sutton
 "A Song of Ascents from the depths of exile: (When Hashem will come out of concealment and return with the captivity of Tziyon),  we will all awaken as if from a deep slumber; it will be so wondrous, as if an impossible dream has finally come true".
(Refer also to the KHT Web Site for our commentary on this Song)
"The verse does not state 'behashiv Hashem shivat Tziyon—when Hashem will restore the captivity of Zion' but rather 'beshuv Hashem et shivat Tziyon—when Hashem will return with the captivity of Zion.' This implies that the Shechinah is in exile with the Jewish people, and will be redeemed with us at the time of the Redemption. The source for this teaching is found in the Tal mud (Megillah 29a): 'Rabbi Shimon ben Yochai said: Come and see how beloved is Israel before the Holy One, for everywhere they were exiled, the Shekhinah accompanied them. When they were exiled to Egypt, the Shekhinah accompanied them, as it is written, 'Did I not reveal Myself to your ancestors when they were in Egypt?' (I Samuel 2:27). When they were exiled to Babylon, the Shechinah accompanied them, as it is written, 'For your sake, I was sent away to Babylon' (Isaiah 43:14). So too when they will be redeemed in the future, the Shechinah will accompany them [back from exile], as it is written, 'Hashem your God will return with your captivity' (Deuteronomy 30:3). It is not written 'veheshiv Hashem—Hashem will restore' but 'beshuv Hashem et—Hashem will return with…'  This teaches us that, as it were, the Holy One Himself will be redeemed from exile along with Israel."  (End of quote by Rav Sutton)
Traditional development and application of these concepts of 'Messiah' and 'Shechianah' have removed any linkage to HaShem's own direct, 'physical' involvement in the promised activities of those concepts.
Independent research scholar. He works tirelessly as an activist promoting Israel and settlement of the Land of Israel, and as Webmaster and co-ordinator of Kol HaTor. Read More.