Texts: Genesis 1:1 – 6:8 || Isaiah 42:5 – 43:10 (Haftarah)

NOTE:  Kol HaTor, in its commentaries on the weekly Parashot, endeavours to search for and accentuate the Torah Messages contained in the Parashot as applicable to the main Theme of Tanach of the Return of the House of Israel, i.e. the Lost Ten Tribes of Northern Israel and their Reconciliation with Judah to form the reunited 12-Tribed Kingdom of Israel. 
– – – – – –
The Biblical (Jewish) Festive season of Succot concluded, the Biblical New Year now starts in earnest. The festive period provided us with the opportunities for personal introspection, new decisions have been taken, slates cleared after Teshuva (repentance) – and, aptly, after the Feasts, the new year's Torah Reading Cycle begins all over for the next year.
With this Parashat Bereisheet, we start this week with the new annual Reading Cycle.
Meaning of the names of the Jewish Years
The names for each Jewish Year are depicted by Hebrew letters, much like acronyms. According to the system of Gematriah, the  probable meanings  of these names can be derived at by using the numerical values of the applicable letters. The prophetic value of these interpretations, if we have correctly found it, can now inspire us and thereby serve as a guiding lamp on our way – proven by world tidings in this era of history.
The prophetic foresight as previewed in this Parashah has most certainly and miraculously been proven right by amazing developments over the last few years  in the religious spiritual world around us. There is very little doubt amongst commentators from many world platforms, that we are facing the prophesied 'End Time' – threatening and scary, but most glorious and exciting in its long awaited fulfillment of the Final Redemption – the establishment of G-d's Kingdom and Reign over the world through His Restored 12-Tribed Kingdom of Israel.
Parashat Bereisheet
What is Life about?
Why are we here?
Where are we heading?
What is it all about? –
Why is an infinite Creator Gd interested in us, unreliable and unfaithful earthlings?
"In the Beginning, G-d created the Heavens and the earth" Gen. 1:1
This very first verse, like all the rest in the Bible, is open to refute, acceptance or rejection and personal interpretation of a subject that boggles the mind.
Creation? Of what, how, why?
It may be a good platform to start this review from: WHAT did the Creation entail? Thereafter, we will trace the answer from our Haftorah portion for the week regarding WHY an infinite Creator involved us, mankind, and to what extent His interest in mankind, His Creation, extends. The answer to this we will find is as mind-boggling vast as the encompassment of the Universe which He has created!
The Universe
Rabbi Zamir Cohen, in his book "The Coming Revolution" – Science discovers the Truth of the Bible, masterly points out that "Today, it is undeniable that scores of scientific "discoveries" are nothing more than the result of scientists finally taking notice of ideas that were already clear to Sages of Torah since the moment the Jewish people received the Torah at Mount Sinai. It is incredible, that a vast number of scientific discoveries cited in the Torah, were only discovered in modern times, thanks to the aid of electronic and other cutting edge technological advances."
The conclusion is derived that ONLY G-d, the Creator, Who formed this wondrous and mysterious creation, could have inspired the Written Bible.
"Penzias, who together with his colleague Wilson, won the Nobel Prize for their discoveries, summed up his research as follows: "Astronomy leads us to a unique event, a universe which was created out of nothing and is delicately balanced to provide exactly the conditions required to sustain life. In the absence of an absurdly improbable accident, the observations of modern science seem to suggest an underlying, one might say, supernatural plan."
The first words of the Torah thunders its Statement of Truth against all these scientific "unknowns": "In the Beginning, G-d created the Heavens and the earth -" Science, since the latest scientific discoveries, is more and more agreeing on this point. Rabbi Cohen points out: "Prof. Robert Jastrow, one of today's foremost astronomers and the founder of NASA's Goddard Institute, expressed very well the embarrassment felt by his colleagues in space research when he said: "… for the scientist who lived by his faith in the power of reason, the story ends like a bad dream – he is able to conquer the highest peak and pulls himself over the final rock – to be greeted by a band of theologians who have been sitting there for centuries…" Today, scientists admit that the world was created. The scientific findings of the 20th century have led many to believe that there is a Supreme Force though they have no idea of how to reconcile that fact with the known laws of physics.
What does the Universe entail?
Here again, Oral Torah (interpretations of the Bible by Jewish Sages of antiquity), superseded modern science by millennia!
The naked eye can discern some 4000 stars in the night skies. Super telescopes have come to be only in modern scientific times – only to confirm, that ancient Jewish writings were ahead of them by millennia! Consider the defined descriptions by Jewish Sages in the Talmud (from Babylonian times BCE with only the Torah at their disposal) of "the myriads of stars in the universe" as "discovered" by modern scientists only recently:
"This is how ancient Jewish Sages described it in the Talmud using Roman military terminology: 'G-d said to the people of Israel: "I created twelve constellations in the firmament, and for each constellation I created 30 hosts (clusters of stars), and for each host I have created 30 legions, and for each legion I have created 30 divisions, and for each division I have created 30 battalions, and for each battalion I have created 30 camps and for each camp I have created 365 000 tens of thousands of stars, corresponding to the days of the solar year – and all of them I have created only for your sake."
Doing the mathematical equation of the above formula, Rabbi Cohen arrives at the following number of stars in the heavens, according to the ancient Jewish Sages:
1,064,340,000,000,000,000 stars
Modern science with its advanced electronic equipment are estimating similar figures, some 3000 years after the Sages who had the naked eye only – but, who were equipped with the Word of God and oral traditions stemming right back from Moses, who was informed by God personally.
Let us now consider the Divine Promises made to Abraham and the patriarchs, that their descendants would be innumerable, equating  the numbers of the stars (Gen. 15:5), the sand on the sea shore (Gen. 22:17) and 'the dust of the earth! (Gen. 13:16).  Is it at all possible and logic that G-d would have referred to the mere 14 million Jews in the world today only?
People who reason like this, lose sight of the Divine Promises that the Lost Ten Tribes of Israel would be re-identified at the End of Time and returned to the Land of Israel. Add to this the myriads of Lost Jews who through the ages assimilated with the nations through marriage and escape from religious persecution — and the possible future population figures for the Land of Israel increases to a figure which is more and more mentioned by commentators, viz. 1 billion and even 2 billion souls! (Enough to populate the 'Greater Israel' from the river Nile to the Euphrates – according to Biblical Promise). Here is a copy of this Map as featured on the cover of the Kol HaTor publication "Jewish Secret Hidden in the New Testament".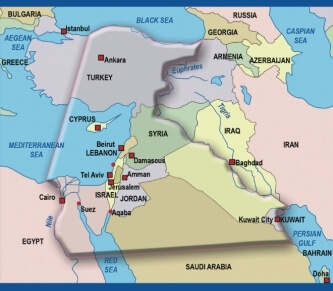 The reality is, that ONLY with such vastly high numbers of population could Israel ever hope to populate the Greater Israel;
Ref. also: The Demographic Solution for Israel.
"And all of them I have created only for your sake."
As if the insight of the Jewish Sages were not phenomenal enough from the above example (and there are myriads more such examples proving that Oral Torah was millennia ahead of the world's scholars in all sciences – including religion, a fact greatly contested by Christianity and, sadly, by re-awakening Ten Tribers the world over), consider the following:
Why did G-d create this immeasurable expanse of flying and rotating masses in the heavens?
Quote the Jewish Sages: "all of them I have created only for your sake." Now behold how this week's Haftorah, the first of the new yearly cycle, confirms this awesome Divine Statement. And, consider simultaneously how these paired sections (the Parashah and the Haftarah) have been programmed centuries ago by Jewish Sages to answer man's biggest Questions:
"Why did G-d create man on earth?"

"What is His Purpose for mankind?"
Our Haftarah spells out the answers:
Haftarah for B'reisheet
This reading hardly needs commentary – it speaks for itself in the light of what we have discussed here.
Some portions have been highlighted, just for emphasis.
Isaiah 42:5-43:10
This translation was taken from the JPS Tanakh.
5 "Thus said G-d HaShem, Who created the heavens and stretched them out, Who spread out the earth and what it brings forth, Who gave breath to the people upon it And life to those who walk thereon: 6 I HaShem, in My grace, have summoned you, And I have grasped you by the hand. I created you, and appointed you A covenant people, a light of nations [ALL 12 Tribes of Israel!]. 7 Opening eyes deprived of light, Rescuing prisoners from confinement, From the dungeon those who sit in darkness. 8 I am HaShem, that is My Name [specifying the 4 letters of His Name in the original Hebrew manuscript];
"I will not yield My glory to another, Nor My renown to idols. 9 See, the things once predicted have come, And now I foretell new things, Announce to you ere they sprout up. 10 Sing to HaShem a new song, His praise from the ends of the earth – You who sail the sea and you creatures in it, You coastlands and their inhabitants! 11 Let the desert and its towns cry aloud, The villages where Kedar dwells; Let Sela's inhabitants shout, Call out from the peaks of the mountains. 12 Let them do honor to HaShem, And tell His glory in the coastlands.
13 "HaShem goes forth like a warrior, Like a fighter He whips up His rage. He yells, He roars aloud, He charges upon His enemies. 14 "I have kept silent far too long, Kept still and restrained Myself; Now I will scream like a woman in labor [refer to our notes on the Hebrew name of this year 5775 above regarding the maternity labour period of 9 months]. I will pant and I will gasp. 15 Hills and heights will I scorch, Cause all their green to wither; I will turn rivers into isles, And dry the marshes up. 16 I will lead the blind By a road they did not know, And I will make them walk By paths they never knew. I will turn darkness before them to light, Rough places into level ground. These are the promises – I will keep them without fail. 17 Driven back and utterly shamed Shall be those who trust in an image, Those who say to idols, 'You are our gods!'"
18 "Listen, you who are deaf; You blind ones, look up and see! 19 Who is so blind as My servant,
"So deaf as the messenger I send? Who is so blind as the chosen one, So blind as the servant of the Lord? 20 Seeing many things, he gives no heed; With ears open, he hears nothing. 21 The Lord desires His [servant's] vindication, That he may magnify and glorify [His] Teaching.
[The Haftarah reading for Sepharadim end here].
[The Ashkenazi reading continues]
22 "Yet it is a people plundered and despoiled: All of them are trapped in holes, Imprisoned in dungeons. They are given over to plunder, with none to rescue them; To despoilment, with none to say "Give back!" 23 If only you would listen to this, Attend and give heed from now on! 24 Who was it gave Jacob over to despoilment And Israel to plunderers? Surely, HaShem against whom they sinned In whose ways they would not walk And whose Teaching they would not obey. 25 So He poured out wrath upon them, His anger and the fury of war. It blazed upon them all about, but they heeded not; It burned among them, but they gave it no thought. "
Chapter 43
1 "But now thus said HaShem – Who created you, O Jacob, Who formed you, O Israel [All 12 Tribes of Israel]: Fear not, for I will redeem you; I have singled you out by name, You are Mine. 2 When you pass through water, I will be with you; Through streams, They shall not overwhelm you. When you walk through fire, You shall not be scorched; Through flame, It shall not burn you. 3 For I HaShem am your G-d, The Holy One of Israel, your Savior.
"I give Egypt as a ransom for you, Ethiopia and Saba in exchange for you. 4 Because you are precious to Me, And honored, and I love you, I give men in exchange for you And peoples in your stead.
5 "Fear not, for I am with you: I will bring your folk from the East, Will gather you out of the West; 6 I will say to the North, "Give back!" And to the South, "Do not withhold! Bring My sons from afar, And My daughters from the end of the earth. 7 All who are linked to My Name, Whom I have created, Formed, and made for My glory. 8 Setting free that people, Blind though it has eyes And deaf though it has ears."
9 "All the nations assemble as one, The peoples gather. Who among them declared this, Foretold to us the things that have happened? Let them produce their witnesses and be vindicated, That men, hearing them, may say, "It is true!" 10 My witnesses are you."
Now consider…!
What measure of Love by the Creator of the immeasurable Heavenly expanse?!
That He has created this ALL for His Beloved, the Creation of His Hand – all mankind, with a FREE Will to applaud and embrace Him – or to scoff, insult and scorn Him!
That He is prepared to receive back His Beloved, His Bride who played the Harlot with "other gods" [the northern 10 Tribed House of Israel whom He resultantly divorced!], notwithstanding her whoring and rebellion against His guidelines for His Household and His Nation!  (Hosea 2:14 onwards; Jer. 3:1-8).
Can it really be that He could love His Creation to such an extent?
Perhaps, when we can picture Him as the Creator, lovingly molding the crown of His Creation – husband and wife, from the dust of the earth; clay models, we could find an answer. When we consider that He then instilled in them firstly a free Will (with all the risks that this involved), and then all the untouchable human factors which would make for LOVE and CARE between husband and wife, parents and children, family bounds, national bounds.
What measure of Love and Grace He exudes!
It would all be well and understandable in a world of love and peace – but imagine to what degree this Love is powered when we allow for the hate, greed and monstrosity that mankind so easily emanates. He, who can see into the inner chambers of man's hearts and minds, has to live with and endure all this!
If it all ended there, it could still be understood – but, and this is the pinnacle of His Greatness: That, while He has the power to intercede and cut off, destroy, annihilate humans who portray such opposite and evil inhibitions, He has to withhold this Destructive Power! Why? For the sake of the Glorious Future that He has planned for Humanity, of which all could partake. (Consider this also as the probable answer to why He allowed the Holocaust to play out its full length, while He could have cut Hitler's life with simply a gaze in that direction!)
Ezekiel chapter 20 (A MUST READ!) is clear on this factor: "How often did I want to destroy you, wipe you off the face of the earth – but, for My Name's Sake and My Honour did I withhold Myself; for the sake of the Oath that I took before the nations that IN THE END YOU WILL BOW THE KNEE BEFORE ME!" (paraphrased from the context).
This topic is as profound as the immeasurability of the vast expanse of the 1,064,340,000,000,000,000 stars flying around light year distances away from each other in the Universe!!!
ALL JUST FOR YOU AND ME!
How can we ever deserve this Love?
How can we be worth such Supreme Royal Love?
Here, in closing, are a few "life-style jewels" which I have gleaned in my search on this topic:
NOTE: Why Jewish and Judaism? Because THAT is the Purpose underlying the entire Salvation or Love Plan of G-d. ALL religions have "good" values in their teachings, BUT, ONLY Judaism, from its foundational moments, embraced the Divine Plan of the eventual establishment of a Reconciled and Re-united 12-Tribed Kingdom of the God of Israel. It will incontestably be a Jewish Kingdom – and if this does not appeal to you, then you are disqualifying yourself and you need no further Judgment for entering the Kingdom or not! You would be very unhappy in such a Kingdom anyway.
"TO BE JEWISH means not only to seek to make one's life more meaningful. Being Jewish also asks us to play an active role in transmitting Jewish values to the next generation. In that sense, Judaism is not only about enhancing one's own life experience but ensuring that the message of Judaism will continue to have an impact on others."
"EXILE – The idea of exile goes beyond the simple notion of bin disconnected from a particular land. It implies a broken state of being, a broken set of relationships. It implies doubt and disempowerment. It implies isolation and separation. It implies an exaggerated sense of ego." – Yigal Deutscher   THIS void is what Ten Tribers cling to  by their insistence  to retain their separate identity, devoid from the culture of the original Banner Tribe of Judah. To re-identify FULLY with the Judah culture and to RETURN to the Land is the ONLY way to free oneself from the shackles of Exile.
"After we have committed our energy to self-care, let us be sure to extend our hearts and our care to all of our community and to all of Israel."
"As the midrash reminds us, nothing is ours; all belongs to G-d who with great hope has given the world to us to watch over and return it as good as new or even better when our time to tend it is up."
Have you considered what it means to "Return fully to your Hebrew Roots"; to become part of the One Stick that G-d promised to make of the two divided Sticks (Ezek. 37:18 onwards), that is, to become Jewish, so that you may return to and become a citizen of your Homeland in the Middle East?